Greater Victoria BMX Association official site
The Greater Victoria BMX track is located beside the Velodrome at the Juan De Fuca Recreation Center in Colwood just off the Old Island Highway. The track was just totally rebuilt recently and it is perfect for riders of all levels from novice right up to expert and even pro. There was three sets of doubles added to the track that are about 18 to 20 feet.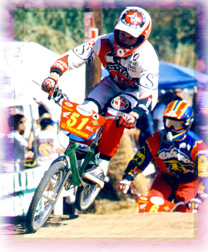 Here are the results from the latest race at Greater Victoria BMX.

Contacts if you want to find out more about Greater Victoria BMX Association.
Comments, Suggestions, E-mail me: